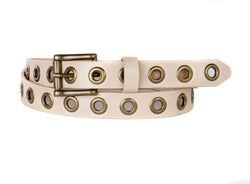 allure boutique
brave dia leather belt
The Dai leather belt is a classic best-selling style with metallic grommets.
25mm / 1" strap width
Antique silver buckle and grommet hardware from Italy
100% vegetable tanned Italian leather
Ethically made in Canada

Naturally milled on Italian hides, soft and supple, its rich colors conveying a sense of elegance and beauty. A brilliant texture is achieved by hand swabbing, a process called "tipping", devised to enhance the peaks and valleys of the grain. This produces lively color palettes, inspired by the boutique makers of handbags in Florence Italy.